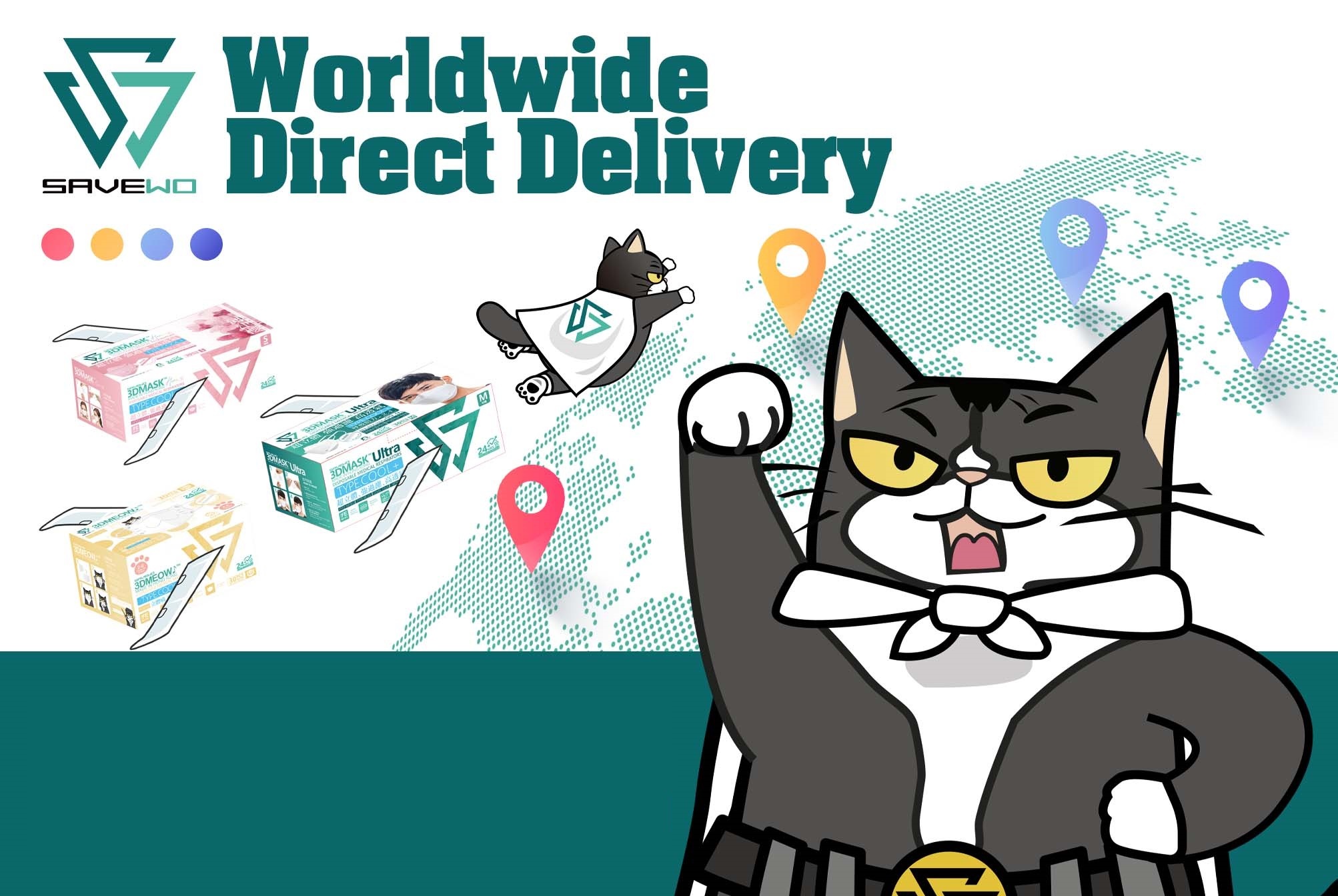 * We will dispatch the parcel 14-21 days after payment is made successfully, then it will take approximately 7-21 days to arrive the destination (7-14 days to countries / regions in Asia, 14-21 days to other countries / regions)

SHIPPING INFORMATION
We offer worldwide shipping to selected countries. Shipping charges are calculated by the system automatically (based on weight and number of boxes of masks).

The service providers of International shipping are Hong Kong SpeedPost/ Kerry Logistics/ SF Express


Membership points or double promotions are not allowed in the overseas order.

Shipping details for SELECTED COUNTRIES
Belgium, Germany, Greece, Italy, Netherlands, Spain, Switzerland, United Kingdom
If your order is with a mix of different products, the system will calculate the shipping fee automatically.
For 3DMASK, 3DMeow, 3DBear, SMILE
For PremiumMask or IP products (Kamen Rider, Hello Kitty, Cyber Formula, Lanlancat,  Gundam etc.)
Japan, Philippines, Taiwan, Vietnam, Singapore
Carrier: Hong Kong Speedpost (Air Mail)

Due to the government policies in Singapore and Taiwan, only 250 masks can be imported at a time. If you deliver to these two countries and the order is more than 250 masks per order, we will not be responsible for the delay in delivery and other import issues.

For the Taiwanese customers, we will email the relevant import documents to you after purchasing the Antigen Test Kit. You can apply for a relevant import license from Taiwan FDA. (https://www.fda.gov.tw/TC/siteListContent.aspx?sid=11636&id=36398) Please send the relevant documents and Savewo's order number to cs@savewo.com or whatsapp us at (https://wa.me/+85292445543) We will dispatch the parcel as soon as possible.
Macau
Carrier: SF-Express (Surface Mail)
Malaysia, Thailand
Carrier: Kerry Logistic (Air Mail)
Australia, Canada, United States
* Updated on 31 Mar 2022: Hong Kong SpeedPost (Air Mail) service resumed with a weight limit of 2KG (= 7 boxes of masks).
Carrier: Hong Kong Speedpost (Air Mail)
Other countries (Not listed above)
Please contact our Overseas Hotline via WhatsApp at https://wa.me/85292445543 
How to buy
Click on the product that you are interested in.

Click the "ADD TO CART" button.

- Each order only includes the shipping cost of one carton of masks, which is 30 boxes of 3DMASK or 40 boxes of flat masks. If you need to order more than one carton, please place another order.


- For different countries/regions, please note with the government import policy arrangements for masks/epidemic prevention materials.

Now you may continue shopping, check out or update the shopping cart, by clicking on the cart icon at the upper right-hand corner.

Please select the destination at "Shipping Destination" and select the payment method by clicking the related button

When you click on the shopping Cart's icon, its content will show up on the left. In the shopping cart's preview, you can see a list of the products you have chosen. together with quantity and price.

Then click "CHECKOUT" .

Please select "Shipping Destination" and "Payment" Method". If you need to deliver to countries which are not shown, please contact our Overseas Hotline via WhatsApp at https://wa.me/85292445543  for assistance.


Click "Proceed to checkout"


Enter customer information:

- Please sign in if you are a member.
- If you are not a member yet, you can Sign Up with an email address (please note that do NOT sign up with a phone number, otherwise you will not be able to receive any notification for shipment update if the phone number is not a HK number.)


- Please click "I agree to the shop's "Terms of Use and Privacy Policy".

After registering as a member, you will be redirected to the checkout page.

Click "Proceed to checkout"

Enter delivery informaton:

- Please fill in the delivery detail, e.g. recipient name, phone number, complete mailing address (including city, state/province, zip code, country name etc.; for orders to Taiwan, please enter the zip code as 3+2 or 3+3),; the country's zip code is required (ZIP code is very important for international shipping, if there is no zip code, the order will not proceed!)

Lastly, please fill in the credit card information, click "I agree to the shop's Terms of Use and Privacy Policy", then submit the order and complete the payment.

You should receive an order confirmation email. The order cannot be revised or canceled once confirmed.